M/s Adinath Industries is an ISO 9001:2015 Certified and RDSO (LKO) Approved Firm, Manufacturing & Supplying
Spheroid Graphite Cast Iron (SGCI) Inserts since last many years.
The SGCI Inserts are used in Pre-Stressed Concrete Sleepers on a Railway Track fitted with Elastic Rail Clips and Rubber
Pads to hold the rails. Two Elastic Rail Clips are provided on both sides of the rail and hold the flange side of the rail with the
SGCI Insert. The top part of the Insert resting on the Sleeper surface is a combination of the tapered part called the
shoulder and semi cylindrical part with a cylindrical hole in it called the centre leg. The Elastic Liners are used between the
rail flange and SGCI Inserts, and together with ERC they reduce the dynamic loads on the Inserts.
All SGCI Inserts are manufactured as per various RDSO Approved Drawings &. IRS Specification S.NO. T-46-1996. We at
M/s Adinath have wide vision towards Quality Control Management. We have a full set of Inspection Instruments /
Equipments to ensure that all our SGCI Inserts are Manufactured of High Quality Standards and up to Customer's
requirements.
We have an installed Capacity to Manufacture and supply more than 2.5 Million nos on Annual basis. We are well equipped
with all Modern Manufacturing Facilities & other equipment to manufacture SGCI Inserts, managed by a professional team
and meticulous workforce which ensures High Quality Engineering Solutions to continuously improve the Quality and
Production Volumes. Adinath Industries are manufacturing all types of SGCI Insert as per RDSO approved Specification &
Drawings with Latest Corrigendum / Alterations.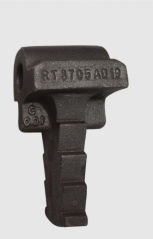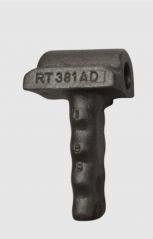 | S.No | Item Name | RDSO Drawing No. | RDSO Approval |
| --- | --- | --- | --- |
| 1 | SGCI Inserts | RT-381 | Approved |
| 2 | SGCI Inserts | RT-6901 | Approved |
| 3 | SGCI Inserts | RT-3705 | Approved |