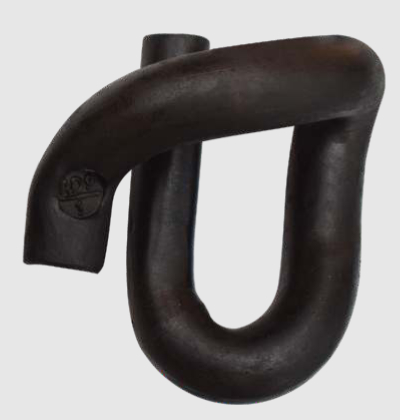 Elastic Rail Clips MK –III & MK-V

We are ISO 9001:2015 Certified and RDSO (LKO) Approved Source, Manufacturing & Supplying Elastic Rail Clips since last more than 25 years. Elastic Rail Clips is one of the common Railway Fasteners in the railway system.
In general, ERC is made up of Forged Spring Steel Grade 55Si7, Manufactured by Hot Forging process. The forged ERC are considered better than other metal forming processes due to most uniform microstructure. The Main Function of Rail Clip is Fastening Railway Sleeper and Steel Rail together on Both Sides. The Rail Clip is considered as one of the best ways to ensure that rails do not move, bend, warp or rot. Each ERC can bear about 2 Tons of force upon a railway track. & provides sufficient elasticity to absorb the vibrations and shocks caused by moving loads and also have adequate Toe Load which will not reduce under service and can be reused without losing its properties.
All Elastic Rail Clips are Manufactured as per various RDSO Approved Drawings & IRS Specification S.NO. T-31-2018 (fourth Revision) We at M/s Adinath have wide vision towards Quality Control Management. We have a full set of Inspection Instruments / Equipments to ensure that all our Elastic Rail Clips are Manufactured of Very High Quality Standards and up to Customer's requirements.
We have an installed capacity to Manufacture and Supply ERC more than 3 Million Nos on Annual basis & have already successfully executed & supplied around 200 Million Nos in last 25 years.
We are well equipped with all Modern Manufacturing Facilities & other equipments to manufacture ERC, managed by a professional team and meticulous workforce which ensures High Quality Engineering Solutions to continuously improve the Quality and Production Volumes.
| S.No | Item Name | RDSO Drawing No. | Diameter (mm) | Hardness (HRC) | TOE Load (Kg) | RDSO Approval |
| --- | --- | --- | --- | --- | --- | --- |
| 1 | Elastic Rail Clip(ERC) MK-III | RT-3701 | 20.64 | 40-44 | 850-1100 | Approved |
| 2 | Elastic Rail Clip(ERC) MK-V | RT-5919 | 23.00 | 40-44 | 1200-1500 | Approved |
Our Manufacturing Facility:
Power Presses for Cutting Bars
Grinders
Hydro Copying Machines
Heating Furances
In-House Fully Equipped Tool Room Facilities Including VMC/CNC/EDM
Power Presses for Forming
Quenching Oil Baths
Tempering Furnaces
Crack Detector Machine
Chemical Analysis by Wet & Spectrometer
Rockwell Hardness Tester
Decarbonisation Tester
Grain Size
Examination of Micro Structure by Image Analyzer
Inclusion Rating
Dimensions Checking by Gauges
Application and Deflection Test
Toe Load Test
Magnetic Particle Detector Test