Composite Grooved Rubber Sole Plates (CGRSP)
Composite Grooved Rubber Sole Plates (CGRSP)
M/s Adinath Industries is an ISO 9001:2015 Certified and RDSO (LKO) Approved Firm, Manufacturing & Supplying GRSP & CGRSP ( 6 mm, 6.2 mm & 10 mm Thick) since last more than 25 years. These are Placed Beneath the Rail on Concrete Sleepers mainly to provide Electrical Insulation and Cushion to Absorb Shocks.
All GRSP and CGRSP are Manufactured as per various RDSO Approved Drawings and IRS Specification No. T-47-2006 and RDSO/M&C/RP-198/2007 with Latest Corrigendum / Alterations.
We have an installed capacity to Manufacture and Supply more than 10 Million Nos. on Annual basis & have successfully supplied approximately 120 Million nos. in last 25 years.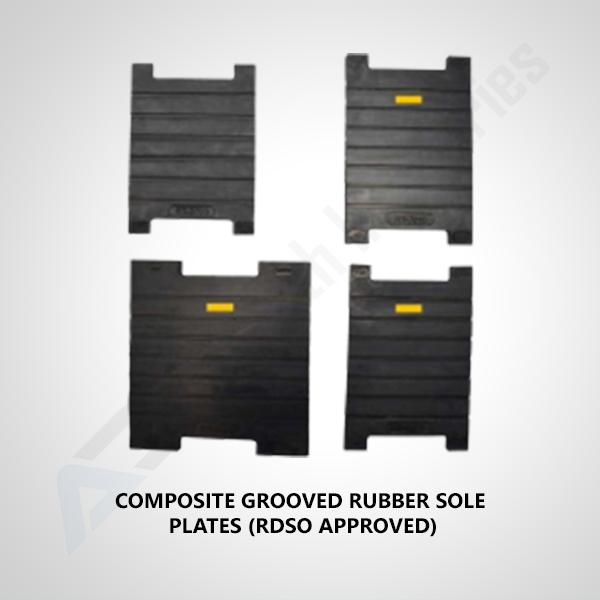 Composite Grooved Rubber Sole Plates (CGRSP)
| S.No | Item Description | RDSO Drawing No. | RDSO Approval |
| --- | --- | --- | --- |
| 1 | GROOVED RUBBER SOLE PLATE (GRSP) 6 mm Thick | RT-3703 / RT-3711 | Approved |
| 2 | Composite GRSP 6.2 mm Thick | RT-8327 / RT-6618 | Approved |
| 3 | Composite GRSP 10 mm Thick for WIDER SLEEPERS | RT-8528 | Approved |
| 4 | Composite GRSP 10 mm Thick for DFCCL SLEEPERS | RT-7010 | Approved |
| 5 | Composite GRSP 10 mm Thick for WIDER PSC SLEEPERS | RT-8747 | Approved |
| 6 | 6mm Thick Nylon Chord Reinforced GRSP | RT-7014 to RT-7021 | Approved |
Our Manufacturing Facility:
Fully Automatic PLC Based Hydraulic Molding Machines (Capacity 50 Tons to 400 Tons)
Fully Automatic Desma Injection Molding Machines (Capacity 250 Tons to 450 Tons)
Kneaders (35 ltrs to 75 ltrs)
Mixing Mills (12 x 30, 14 x 36, 16 x 42)
3 Roll Calendaring Machines
Automatic Batch Weighing Machine
Automatic Flash Cutting Machines
Final Pad Cutter
In-House Fully Equipped Tool Room Facilities Including VMC/CNC/EDM
Hardness Tester (Shore A & Shore D)
Specific Gravity Testing Equipment
Muffle Furnace for Ash Content Test
Computerized Universal Testing Machine (UTM)
Single Pan Balances / Digital Weighing Machines
Digital Ageing Ovens With Graph
Secant Stiffness Testing Machine
Impact Attenuation Testing Equipment
Motorized Load Compression Testing Equipment
Rheometer & Yerzely Oscillograph Machine
Dimensional Checking Gauges